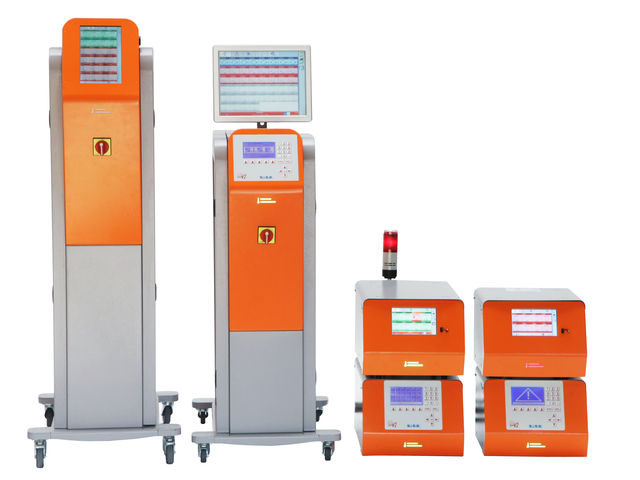 Heat canals
Multizone Hot Runner Controller for Hot Runner Systeme M-Serie
The MV2 Multizone controller with blue LCD Display and Touchscreen under Linux is well adapted to applications using a high number of zones to control in several industries : automotive, medical, pharmaceutical, packaging, et technical parts.

Using only one microprocessor to control up to 24 zones allows for an extremely compact design, all while conserving the advantages that made SISE successful:

Opto-insolated and modular thermocouple cards
Modular and compact power cards in 15A, 20A or 30A
Double protection by fast action fuses on each power card

M Series controllers are available in 4 sizes :

XS- from 8 to 12 zones
S- from 16 to 24 zones
L- from 24 to 72 zones
XL- from 72 to 144 zones

STANDARD FUNCTION

-Permanent self tuning control (*)
- 2 adjustable setpoint values
- Display of % power and load current per zone (Amps)
- High and Low Alarm (adjustable per zone, output on relay)
- Broken thermocouple (Display THC)
- Inverted thermocouple (Display THI)
- Automatic and Manual modes
- Zone Designation (8 digits max.) : MANIF1, SPRUE, TIP26
- Zoom in on 1 or more zones
- Keyboard locks with password
- 16-mold fi les (Unlimited with touchscreen PC)
- Electrical Data from mold saved for analysis
- Standard multilingual interface (11 available languages)

ADVANCED FUNCTIONS

- Programmable display of zone data
- Boost function
- Percentage of Power Surveillance (%)
- Choice of 4 Softstart Programs (time duration, °C/minute, shifted, synchronized)
- Real-Time Mold Surveillance for variations in electrical data
- Automatically switches to Manual Mode using last recorded Power Applied
- Zone slaving

The MV2 Multizone Controller uses a new version of the high performance Permanent Self-Tuning Control software developed by SISE.
SISE software optimizes control parameters by permanently monitoring and recalculating for variations in process characteristics.
Our software includes a Phase Angle Control system during the SoftStart phase and a Pulse Triggered & Zero Crossing (PWM) system during control phase.
This ensures both the lifespan of the heating elements and compliance with CEM regulations.

This product line also offers essential daily functions for users like MOLDSCAN, which conducts an electrical diagnostic of the hot runner system. MoldScan saves all of this information in a reference file, which will then be compared to values at startup on a zone by zone basis. There is also the PTI function, which recognizes inverted or pinched thermocouples, and lastly material leak detection in real-time.


Multilingual. Facilitated Maintenance, modular conception. Optocoupled thermocouple inputs in groups of 8 zones.
Multizone Controller with LCD interface or color touchscreen

4 sizes available from 8 to 144 zones (XS, S, L, XL)

Permanent self-tuning control or programmable P.I.

Monitoring of power supplied (%)

4 Adjustable softstart programs

Automatic switch to manual mode if thermocouple broken

Zone slaving

Diagnostics for mold with MoldScan

PTI function (Detects reversed and pinched thermocouple, etc…)

Real-time detection of material leackage
Automotive

Packaging

Technical

Medical
Opinion on Multizone Hot Runner Controller for Hot Runner Systeme M-Serie
Give your opinion / Ask a question
Among other offers from SISE SAS