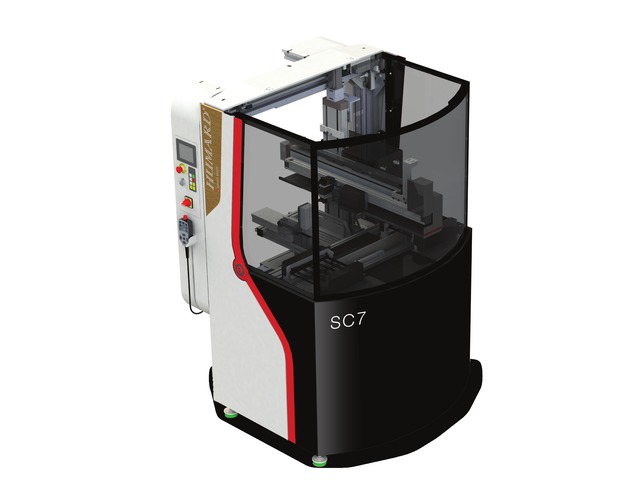 Cartesian robots
SC7 HUMARD® compact robot for CNC machines, side access
Compact Robot HUMARD®
SC7 resolutely innovative
We met the challenge of improving design, usability, and accessibility.
Our constant attention to floor surface optimisation inspired us to equip our new robot, the Compact
Robot HUMARD® SC7, with a vertical door offering multiple advantages such as automatic
opening, eliminating the full swinging of the doors, and providing easy access to the robot's controls.
The Compact HUMARD ® SC7 Cartesian type robot is efficient, productive, and accurate.

The Compact robot HUMARD SC7 meets the following requirements :

• Intensive use in the industry given its robust construction,
• High reliability and very long life cycle linked to the choice of improved components and to
the optimal kinematic,
• Increase in productivity thanks to the speed and the quick change of series,
• Easy to use with an optimized ergonomics,
• Maximal accessibility thanks to its open and secured area offering to the operator a direct
access to pallets to be loaded/unloaded,
• Optional : retractable glass door in the lower frame,
• 180° of working area which benefits from the external lighting,
• Reduced footprint thanks to a compact frame and a telescopic axis,
• Can be easily adjusted or fitted to many other machines or products.

The applications of the Compact HUMARD ® SC7 robot are multiple:

Loading and unloading machines, managing parts conditionned in piled palettes, managing
bulk parts, sorting, and checking before and after operations etc. In a wide range of domains
such as watchmaking, jewellery, automotive, electronics and medical.
Download the complete technical features
Autonomous and can be adapted to fit all kinds of CNC machines

Memory for saving/restoring handling programs of work-pieces

Loading / unloading cycle time of the robot: 5 s / cycle

Auto adjusting of background parts preparation according to the CN machining time

Integrated system for remote maintenance
Opinion on SC7 HUMARD® compact robot for CNC machines, side access
Give your opinion / Ask a question
Among other offers from HUMARD AUTOMATION SA