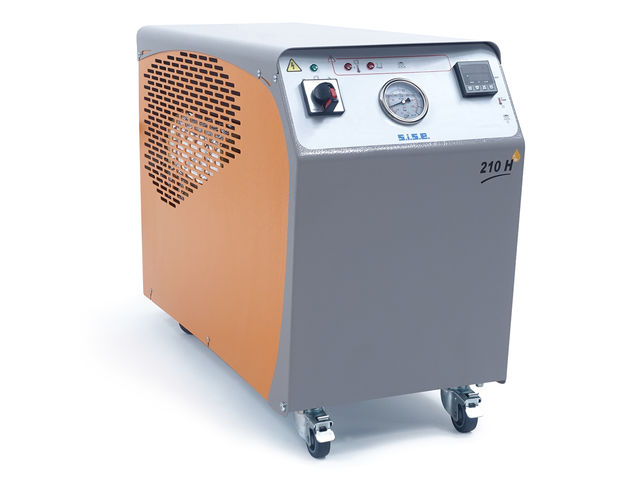 Temperature regulator for plastic
Oil Mold Controller Type 210 H6/12E

The mold controllers of the 210 H6/12E range operate with oil up to a temperature of 210°C or 250°C (option).

The temperature controllers are equipped with a 60L/min magnetic coupling pump with max 5 bars of pressure, a heat plate exchanger (spiralled) and offers 6 or 12kW of heating power.

Control is ensured by a self-tuning microprocessor controller.

The heaters have no contact with the oil in the tank, which prevents accelerated deteriation (cracking). Addtionally these and other parts are easily replaceable (emptying is not necessary), resulting in facilitated maintenance.

The controller can communicate with the press via several protocols, including Modbus, Profibus, TTY, RS485, SPI…
Options include flow meters, remote communication, manual bypass, solid state relay and custom colors, among others.

Versions equipped with machine communication capability can directly download mold data and alarm signals from the injection molding machine control panel.

Applications :

All high temperature applications that require a heating power of up to 12kW (mid-sized molds, dual-layered tanks, calendering, heating tables, relatively fast rise in temperature, control of fluid process for chemical, petrochemical, and pharmaceutical industries, and particular temperature conditions.
Anti cracking system. Heating resistors don't have any contact with oil int he boiler which avoids accelerated deterioration of the oil.
Maximum Temperature : 210°C or 250°C optional

Heating Capacity : 6 or 12 kW

Cooling Technology : Plate heat exchanger

Pump type : Magnetic coupling

Maximum Throughput : 60 L/Min

Maximum Pressure : 5 bars

Voltage : 400V - 3Ph. + E - 50Hz

Control and regulation : Microprocessor, self-tuning

Filling : Manual, volume 15 L

Cooling power : 45 kW (Water 10°C - Process T°C max)
Automotive

Composites

Technical
Opinion on Oil Mold Controller Type 210 H6/12E
Give your opinion / Ask a question
Among other offers from SISE SAS